Keeping Cool at KL: Hopping On and Off
9:16 PM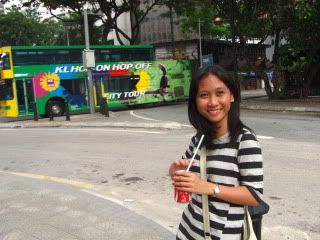 Day before we rode the HOHO bus. So colorful!
I asked my friends what to expect from Kuala Lumpur and most of them just said shopping. Given that the main attraction is a man-made infrastructure speaks for itself. The low cost carrier terminal (lcct) is far from the city and takes more than an hour to reach. This isn't the case for the new and beautiful Kuala Lumpur International Airport (KLIA) that has a free train going to the city.
You'd think there's not much to see at KL except for the twin towers and KL tower. But perhaps a one-day ride at their featured hop-on hop-off (HOHO) bus can change your mind.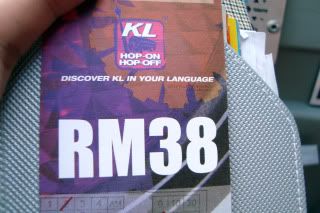 We decided to buy a ticket for HOHO because we had very limited time to go around the city. The ticket costs 38RM ($12.51 or Php542.85) and is good for 24 hours.
The idea of HOHO is that you can ride the bus and go down at any stop among the
22 stops
marked around the city which covers around 40 attractions. You can go down, go around and just catch the next HOHO bus that comes every 30mins. This is unlike most tourist buses that just gives you a couple of minutes to see the site. Just look for the HOHO bus stops. First stop is the Malaysia Tourism Center and last stop is KLCC. It goes around KL and the total takes up more than half the day if you ride just one bus. You can opt to go around first then have a second round going down to the places that most interested you. You get to pass by their landmarks. Plus there's wifi on the bus. We bought our ticket at KLCC so our first stop was indeed the first stop in the map.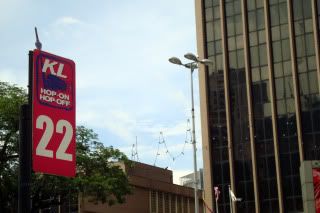 We rode the bus at around 2pm of a Sunday so we have until 2pm of Monday to go around KL by HOHO bus. Our main goal was to go around KL and have a photoshoot at Titiwangsa Lake Park where the Filipino movie "Miss You Like Crazy" was shot. We're fans of John Lloyd.
Titiwangsa Lake Park
Titiwangsa Park is at stop 20. We got down, walked a couple of miles to the park, took some photos, let the rain pass then went back to the stop to wait for the bus. It was the end of Sunday for us so we just got down stop 6 which was Bukit Bintang walk. Conveniently our hotel was located at the same street.
The next day we wanted to do our shopping so we just walked to stop 7 to catch the HOHO to China Town which was stop 8.
We went back to Bukit Bintang riding the train since riding the HOHO would mean stopping more than 14 stops to reach Bukit Bintang. HOHO was convenient for us so as not to waste time figuring out how to reach a certain place around the city.
Click on the photo to enlarge map