Philippine Love: Escape to Valentino
11:11 PM
I've been spending too much time in the beach this summer and a resort and spa was a breath of fresh air. My Saturday was made for relaxing. Valentino Resort and Spa makes you feel like you're in your own private rest house in Batangas.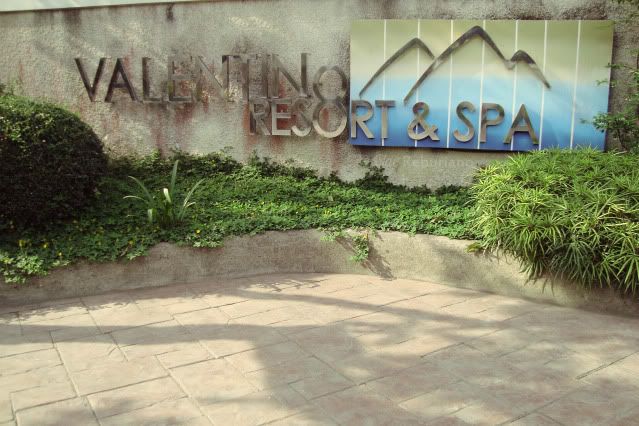 Start of your morning with a walk around the place. It's a place you can imagine having your pre-nuptial shoot. You have romantic benches, a hanging bridge, and a view deck for Mt. Makulot. There are flowers and trees everywhere.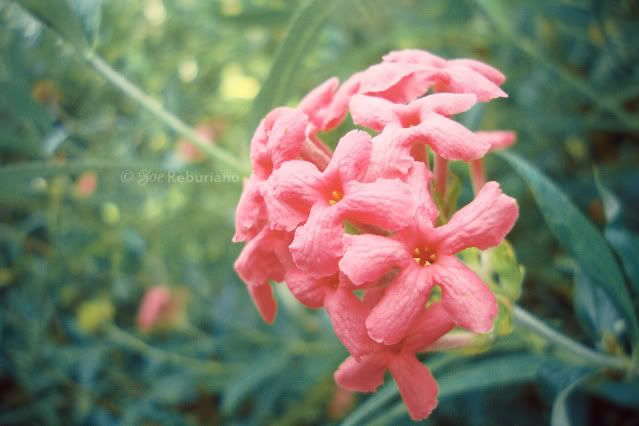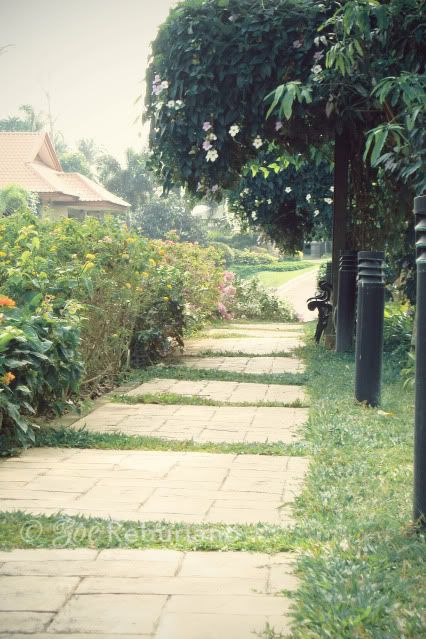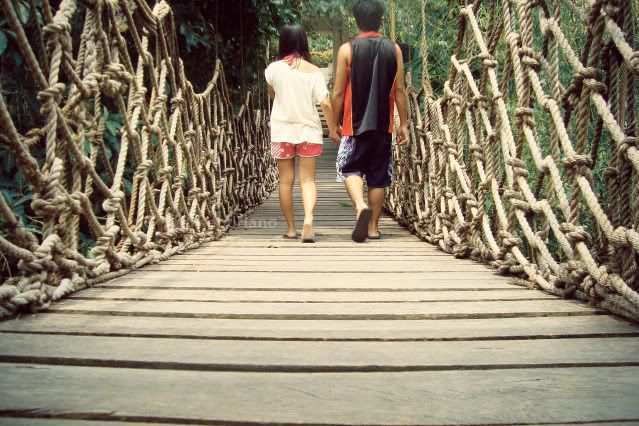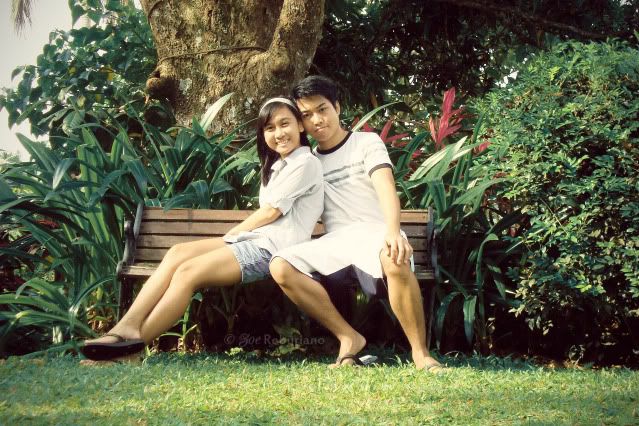 Once you've gotten tired of walking around, take a dip at their pools. Or at their not-so-hot but very bubbly jacuzzi. You'd have to walk from the kiddie pool to the jacuzzi since they're in different areas. The jacuzzi is beside another big swimming pool. You can stay at either side to relax.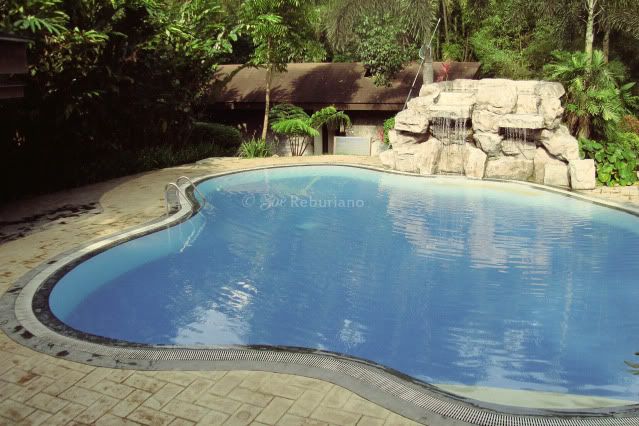 Pool with waterfalls near the kiddie pool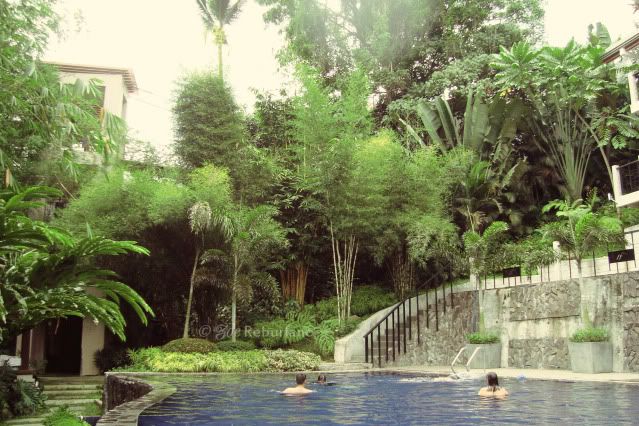 Pool beside the jaccuzzi
You can let your kids play at their small playground near the kiddie pool. Or channel the kid in you and ride the see-saw or swings.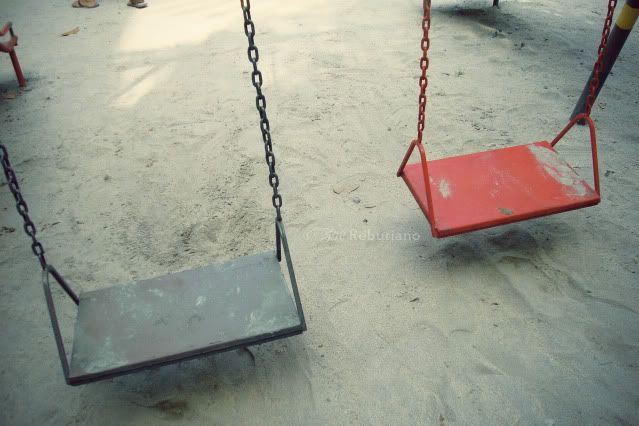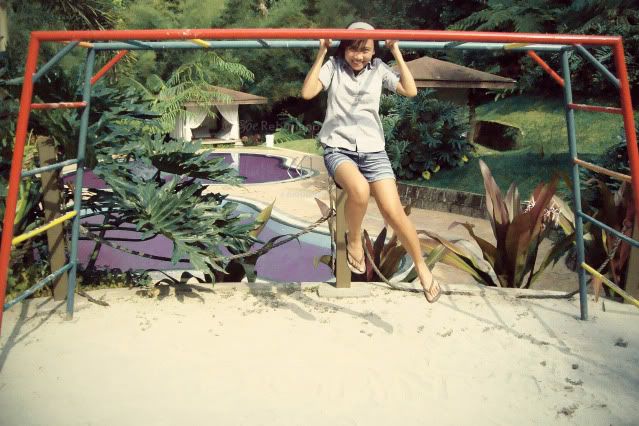 Always a kid at heart
Spend your afternoon getting a full body massage. Make sure you have an appointment beforehand (or make one in the morning). You can also buy massage oil and body scrubs from the front desk.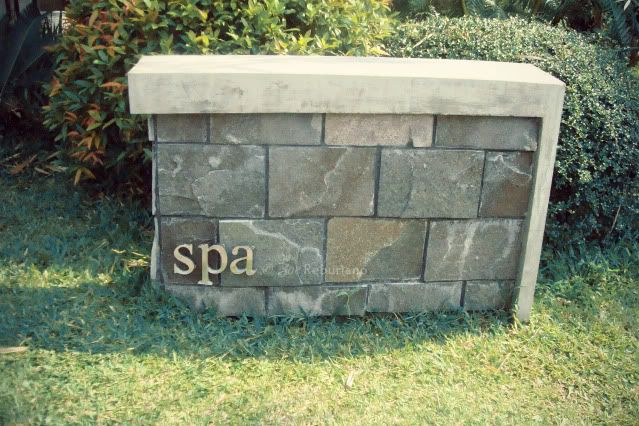 Below their spa are their standard rooms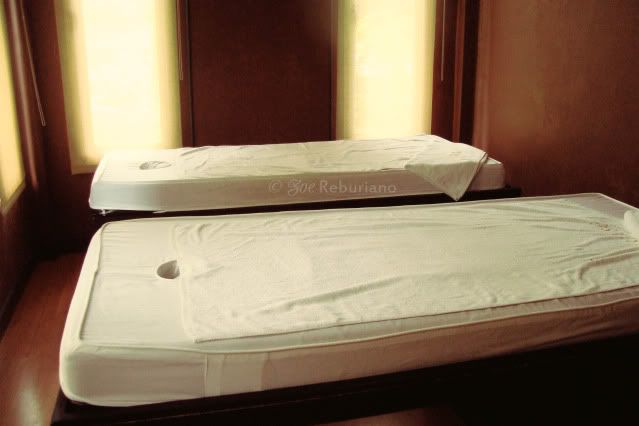 Perfect for couples!
Bond with your loved one in their big cabana. Lie around, tell stories or take a quick nap after your massage.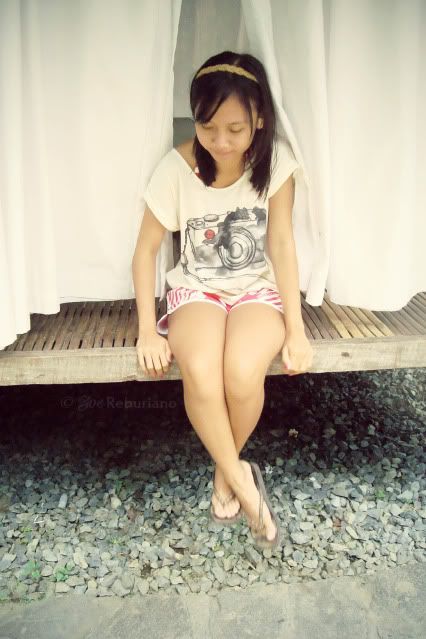 Retire for the night at their apartment-style rooms or villas.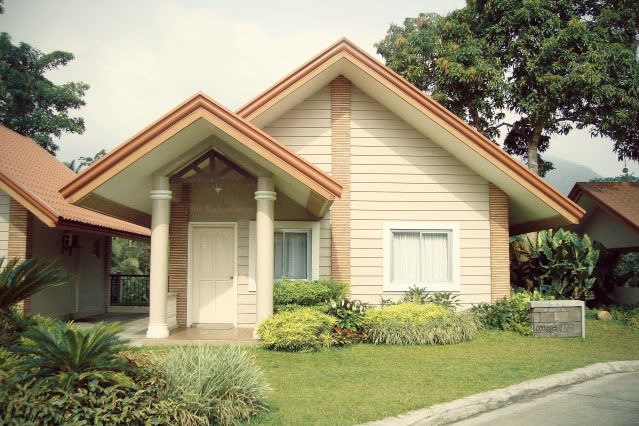 In between the gardens, viewing deck and the spa
Overlooking the jacuzzi and swimming pool
I bet you'd wake up in the morning feeling relaxed and ready to start a new work week.
DETAILS:
How to get there (by public transportation):
1. Ride a bus going to Batangas Tambo Exit in Buendia (Php124.00)
2. Get down at Tambo Exit (past Star toll). It's the first stop of the bus so you won't miss it.
3. Ride a jeepney going to Lemery. Ask the driver to drop you down Valentino. (Php10.00)
If you want driving directions, go to the
Valentino website
Spa Rates (from Valentino Website):
Sauna
One Month:
Member - Php. 1,200
Non-Member - Php. 1,600
Half a Month:
Member - Php. 600
Non-Member - Php. 800
Per Session:
Member - Php. 75
Non-Member - Php. 100
Massages
Whole Body - Php. 350
Facials
Facial Cleaning - Php. 250
Facial Cleaning with pimple & acne treatment - Php. 350
Facial Cleaning with collagen treatment mask - Php. 350
Facial Cleaning with collagen & seaweeds treatment mask - Php. 500
Back and Chest cleaning with pimple treatment - Php. 500
Diamond Peel / Dermabrasion - Php. 1,000
Firming / Whitening
Whole Body (body peeling scrub) - Php. 3,000
Arms / Legs - Php. 500
Neck - Php. 250
Chest / Back - Php. 500
Under Arm - Php. 300
Front - Php. 800
Foot Scrub (scrubbing with collagen & moisturizing lotion) - Php. 300
Foot Spa - Php. 250
Waxing
Brazilian Wax - Php. 600
Bikini Waxing - Php. 1,200
100ml massage oil Php200.00
Accommodation:
Big Cabana
Php500/day + entrance fee
Php750/night + entrance fee
Small Cabana
Php350/day + entrance fee
Villas
Peak Season (Oct1-June14) Php4,000/night
Off-Peak Season (June15-Sept30) Php3,000/night
Includes:
Free breakfast for 2. Accommodation good for 4
Additional Php300/excess guest. Max. of 8 guests per villa
Deluxe Rooms
(overlooking the pool and jacuzzi)
Peak Season (Oct1-June14) Php2,500/night
Off-Peak Season (June15-Sept30) Php2,000/night
Includes:
Free breakfast for 2. Accommodation good for 2
Standard Rooms
(located below the spa and gym)
Peak Season (Oct1-June14) Php2,000/night
Off-Peak Season (June15-Sept30) Php1,750/night
Includes: Free breakfast for 2. Accommodation good for 2