Singapore Galore: Disposable Towels!
8:25 PM
We stayed at Rucksack Inn at Lavander St. after our event. One of my favorite new discovery was the disposable towel they sold for S$3.00 each. The owner said it was good for ten uses. Since I did not bring any towel during this trip, I ended up buying one.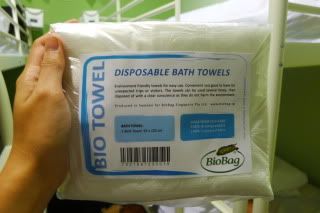 It was my first time to actually hear about disposable towels. I was hesitant at first because it doesn't seem like a towel. It looked like paper. The first night I washed my face and did a test run on the disposable towel. It actually works. In fact, it's actually more absorbent than some towels I've had. The size is your average towel but I can wrap it around my body like a normal-size bath towel since I'm small.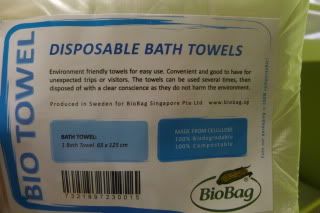 I was so amused with this product.I actually want to have a stock of disposable towels for future travels. It doesn't eat up as much space as the normal towel. Plus, I can leave it when I'm on my way home and my luggage is full from all the souvenirs and food I hoarded along the way.
So... where to buy disposable towels here in Manila? Drop a comment if you know!