The Filipino Dream: GK Enchanted Farm
1:08 AM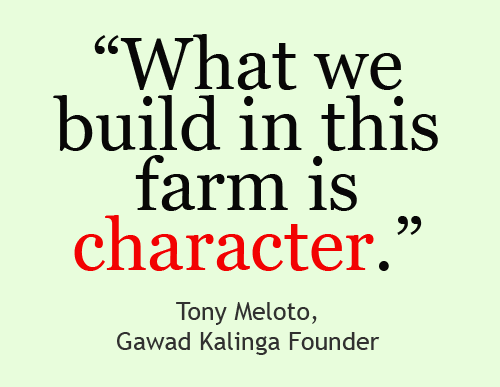 "What we build in this farm is character." – Tony Meloto, Gawad Kalinga Founder
What is the Filipino dream? Is it going to the United States of America to send dollars back here in the Philippines? Is it leaving the archipelago for greener pastures? Or is it making the Philippines a hub for social entrepreneurship in Asia? Ask yourself those questions then book a day at GK Enchanted Farm to find answers.
Enchanted Spirits


As a child, I believed in engkantos. I felt that believing in engkantos is part of being a Filipino. It is a cultural identity such as having mythical gods and creatures such as dragons portrayed in our houses. Last May 17, I got to visit an enchanted place in Angat, Bulacan. It is not as mystical as those in our alamats but I can definitely say that those staying in the Enchanted Farm are beings not similar to us. They have something special. They are living and building the "Filipino dream".


Engkantos in Filipino mythology are beings known to bring either blessings or madness to people around them. It has been theorized by some scholars that engkantos were used to describe the first European missionaries in the Philippines who had fair skin, light colored eyes, and tall posture. Nowadays, the engkantos in GK Enchanted Farm are students from France, Spain and other parts of Europe who felt the need to serve in our country. Our contact and guide during our Blogger's Weekend was Clementine Turgeon who is a French intern currently staying here in the Philippines for GK Enchanted Farm.
Tito Tony Meloto and Clementine Turgeon during Tito Tony's talk on GK Enchanted Farm's beginnings
Engkantos tend to fall in love with brown-skinned mortals. Indeed, the foreign interns have fallen in love with the country and the Filipinos in the community. Engkantos give their object of affection prosperity. This is perhaps why GK Enchanted Farm is a Silicon Valley for Social Entrepreneurship and a Disneyland for Social Tourism.
Social Entrepreneurship


Social entrepreneurship is not known to many. Filipinos have been trained to be employees rather than entrepreneurs. We have been taught how to climb the corporate ladder but not how to build our own business. Moreover, we have not been taught how to create a business that will benefit the local community.
When I was in 4th year high school, I struggled to find a course to satisfy my multiple interests. I came across BA Development Studies in the Ateneo course brochure and I got captivated by its description. It was multidisciplinary and will enable me to enter into different fields. I did pass Ateneo but I went into University of the Philippines which also had BA Development Studies. Little did I know it will change my mindset.
BA Development Studies in UP Manila focuses on Third World Development particularly on the Philippines. For a course that can help alleviate the country, it is quite unknown to everyone. I can count on my fingers how many actually understood what my course was when I told them my degree. But go to Europe and I will not be asked to explain my degree. Because the French and other Europeans know what Development Studies is and values it. Therefore, it is not surprising to find more foreigners than Filipinos in GK Enchanted Farm. They see the value of social enterprise and third world development.
It was so inspiring to see people who are already into Social Entrepreneurship and believe in Sustainable Development. Sustainable Development was bombarded to us during college but I was actually a skeptic when it comes to the Philippines. Being in GK Enchanted Farm actually gave me what we all need – HOPE. So who are these people and what are they doing?
Theo and Philo
Almost everybody loves chocolates. And for a country that can cultivate lots of chocolates, starting Theo and Philo was a struggle for Philo Chua. He initially struggled to find cocoa farmers to have locally made artisan chocolates that can rival Europe. These chocolates can now be easily identified by its artistic wrapping and unique flavors such as dark chocolate with green mango a& sea salt or dark chocolate with labuyo. These chocolates are made in the Philippines for the Filipinos. You can proudly say the cocoa are sourced from Davao and the sugar are from our sugar capital of Bacolod. If you are interested in the chocolate making process, Theo and Philo has chocolate making demos in GK Enchanted Farm.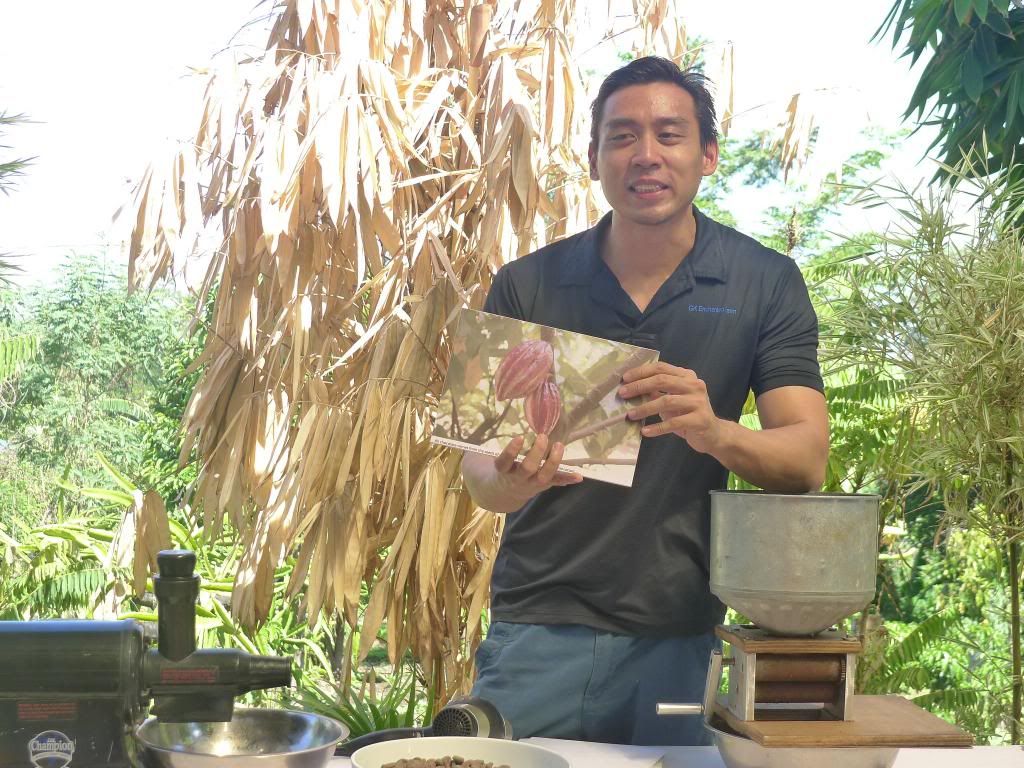 Philo Chua explaining how cocoa turns into chocolate
We are not exactly a cheese loving country but we have so many green pastures. But did you know we import most of our dairy from a grassless country called Singapore? For shame, Philippines. Gourmet Keso aims to change the dairy industry in the Philippines. If you think making cheese is such a complicated process, then you should watch the kesong puti demo at GK Enchanted Farm. The kesong puti goes so well with our favorite almusal, pan de sal. Or open a pack of Skyflakes to pair it. They also have cream cheese and flavored carabao's milk in classy packaging. Addison Falcon is dedicating his days for Filipinos to have access to locally-produced dairy goods. If you have a restaurant who uses foreign cheese, why not give this local brand a try?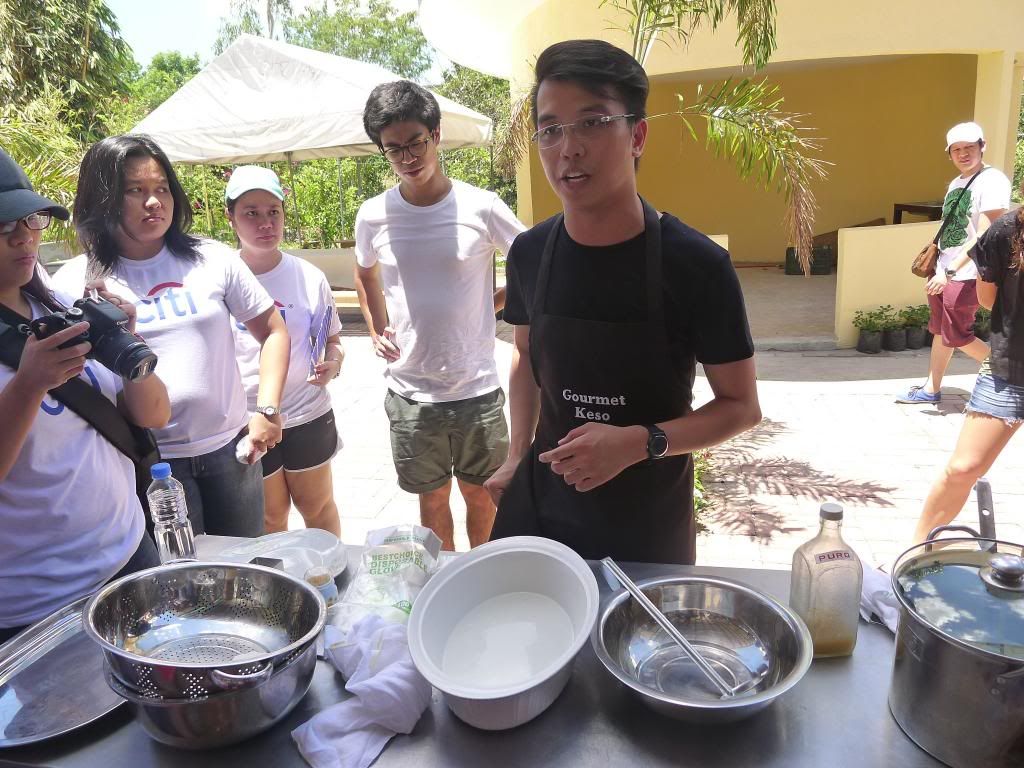 Addison Falcon explaining the current local dairy industry before the kesong puti making demo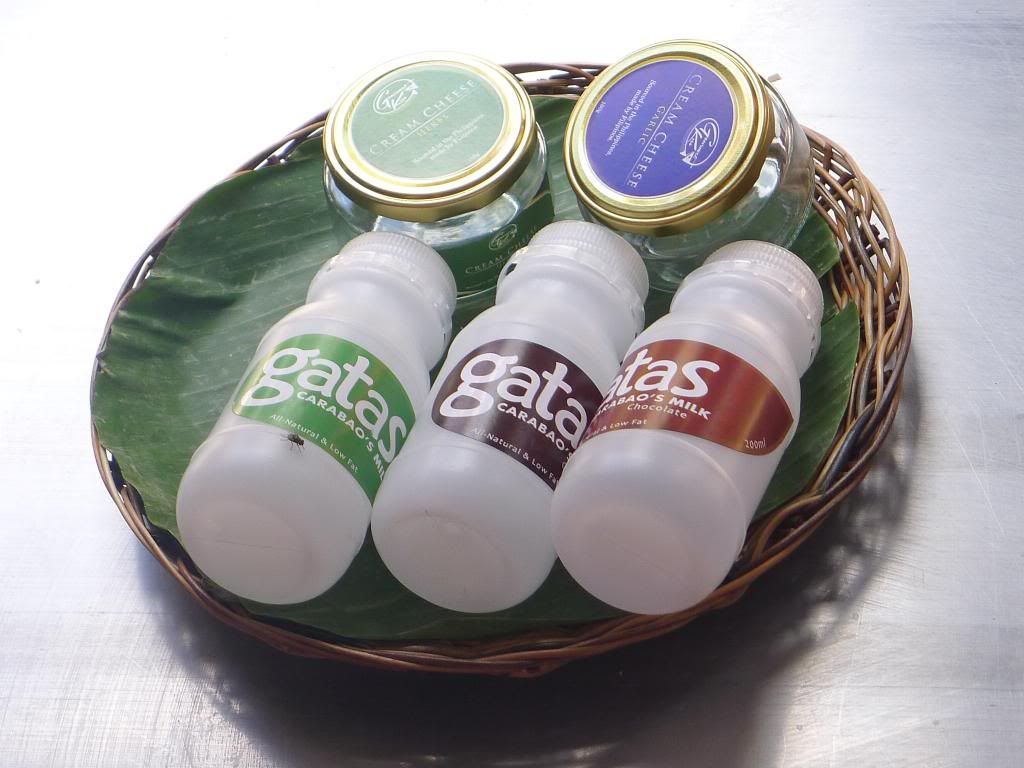 Got Gatas? Gatas and Gourmet Keso's Cream Cheese packaging. Would you believe these were rushed?

Plush and Play
Do you know Mais Ganda? How about Anne Kamatis? Manny Pakwan? Ryan Bawang? Have you met Buko Martin? If these names do not ring a bell, then drop by Plush and Play in GK Enchanted Farm. These are the wonderful creations of Fabien Courteille who saw the growing need for local toys. We all know about teddy bears but how many of us have actually seen a real bear? Do we even have bears in this country? I grew up eating mais, kamatis, pakwan and drinking buko juice. So why not create toys that embody the Filipino culture and do not have lead? Enter Plush and Play in the market. These are handmade by the mothers in Bulacan who lost their job when the nearby sewing factory closed down. Fabien saw their skills and need for jobs so he decided to make them a part of Plush and Play.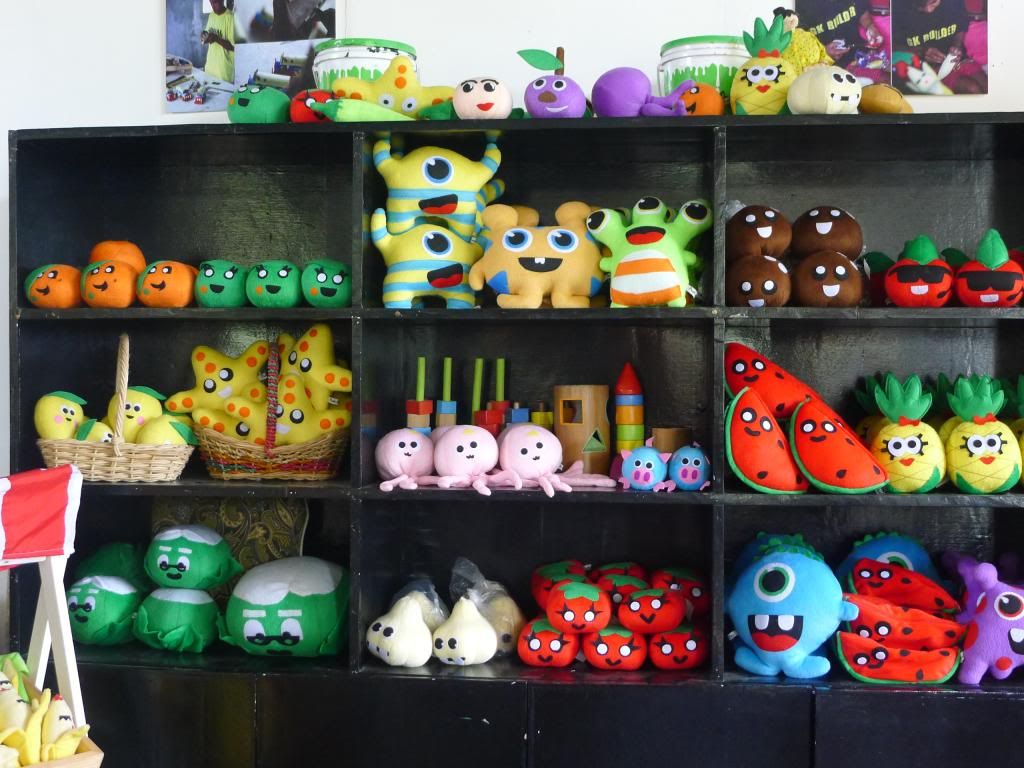 Look at all those handmade plushies! My favorite is the starfish (of course).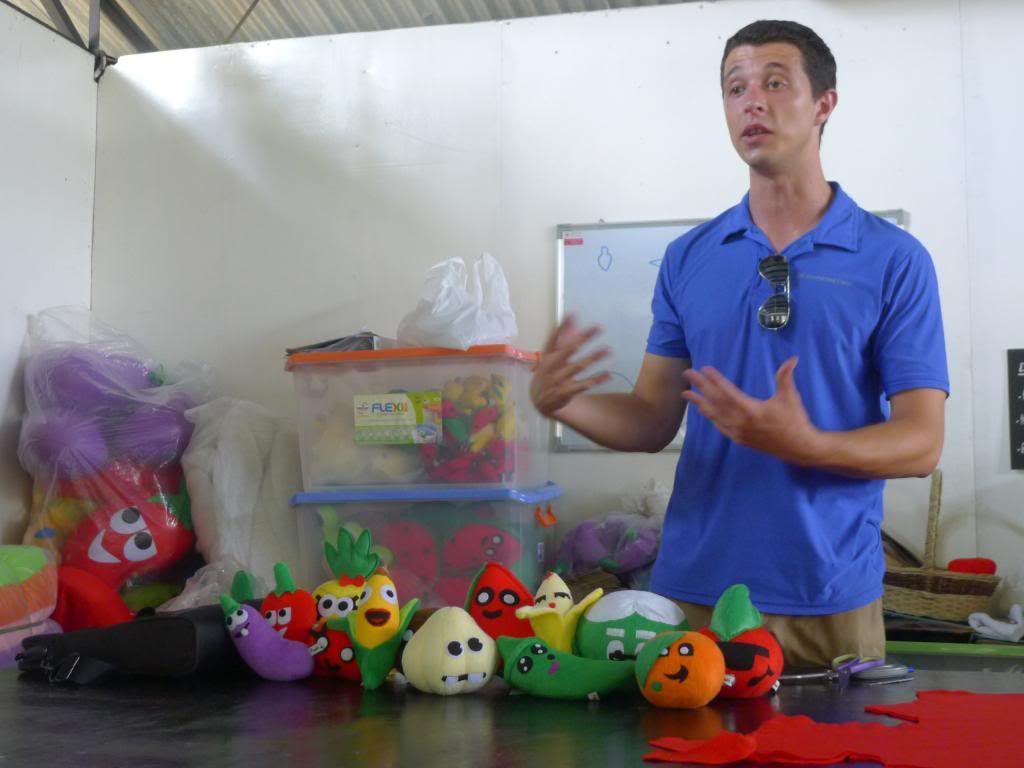 Fabien Courteille, together with his crew of plush toys, explaining how Plush and Play started


You should hear each of their stories personally. Tito Tony Meloto said that "Entrepreneurship is Leadership". Why not learn from the current leaders? And guess what? GK Enchanted Farm is having their next Start-Up Business Camp! If you have an idea or urge to go into social entrepreneurship, then book a slot now!
Click here
to know more about GK Enchanted Farm's social enterprises.
Five-Star Community
Let me warn you about one thing: GK Enchanted Farm is not a five-star resort. You will not find fancy beds or modern bathrooms. However, you will experience a five-star community. How many of you have actually been to one? This is a community where you can meet children speaking French and families having their own herb gardens. You can start your own herb garden by buying potted plants here for only Php50.00. I bought peppermint and chocolate mint. Don't just invest in ornamental plants when you can make pesto from your garden.


The farm's Infinity Pool is one of my current favorites. Imagine having a dip while being surrounded by mango trees, grazing carabaos and a babbling brook. You can stay overnight at any of their villas.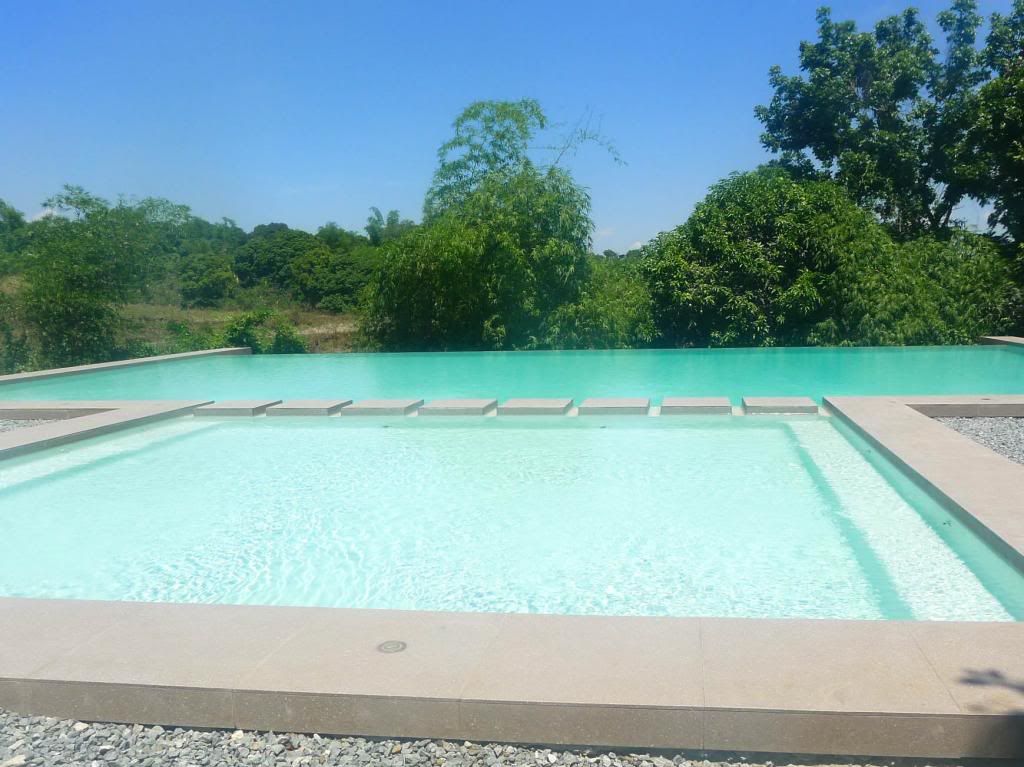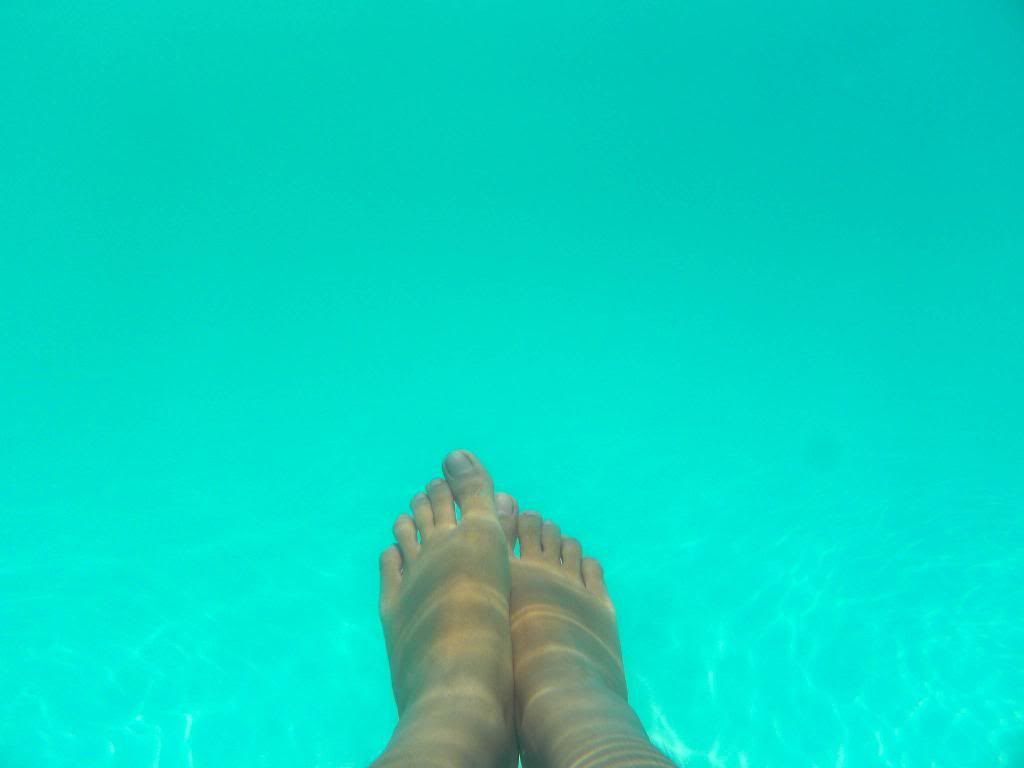 The architecture is a manifestation of the Filipino talent. There were carved wooden fishes that I wanted to take home.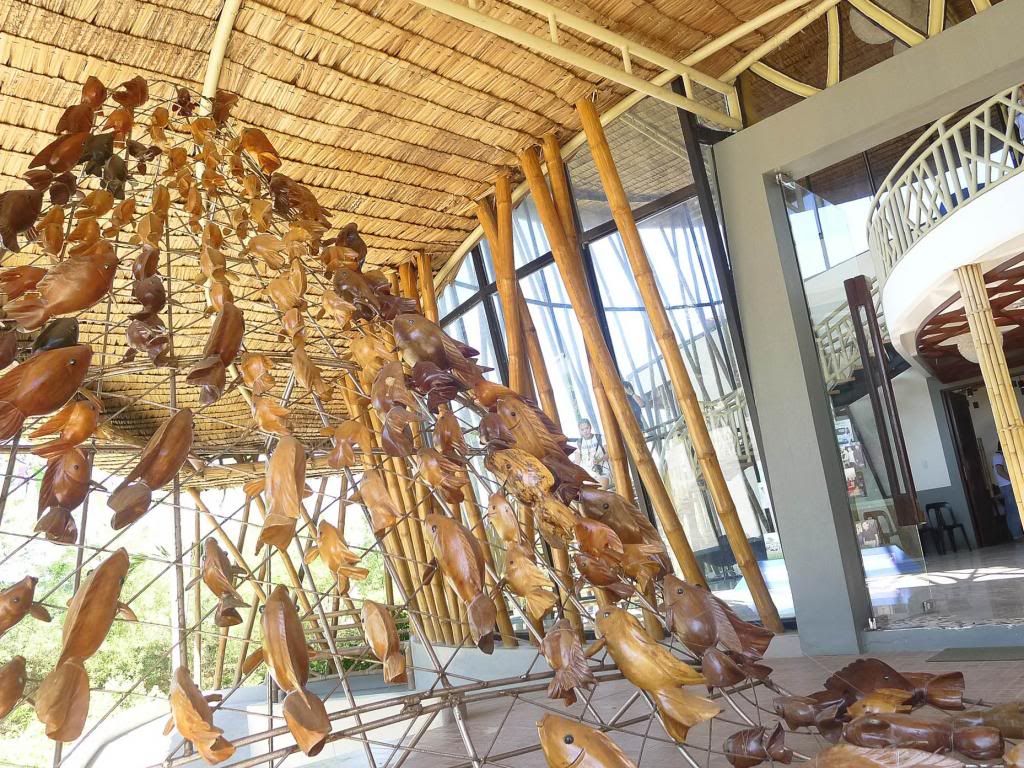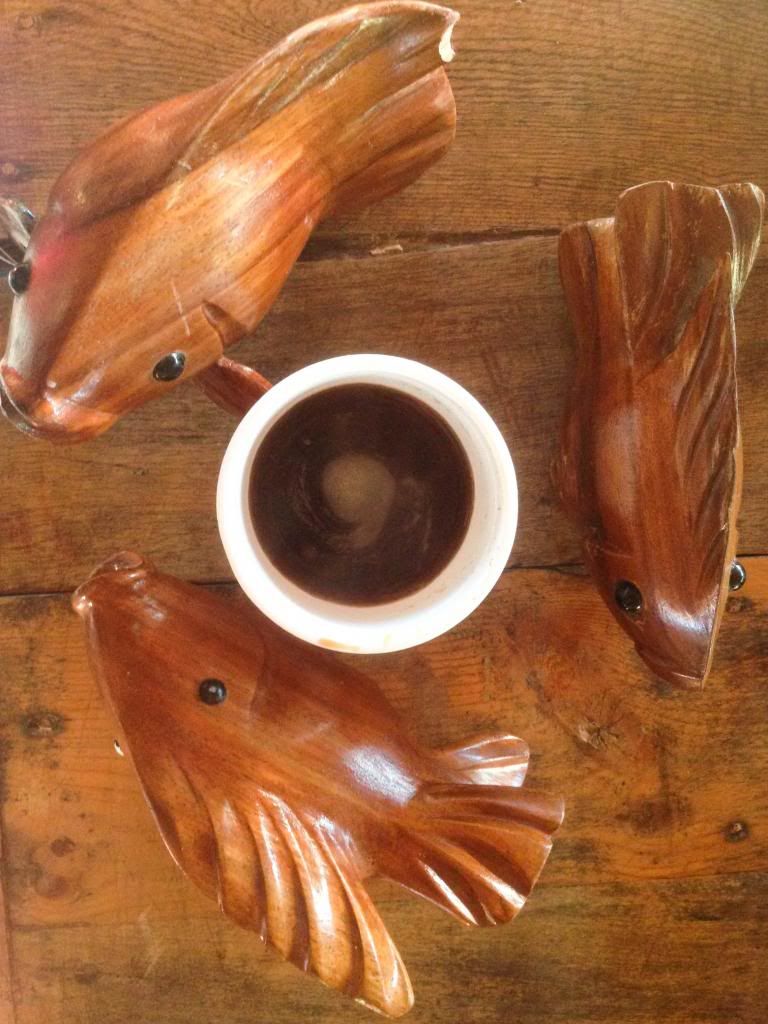 The Bamboo Palace Center for Development Design is an architectural feast. They made use of traditional Filipino materials such as rattan and bamboo. It's an ideal place to catch the sunset. It's like a higher class of our traditional nipa hut. The place can accommodate events and gatherings.


Click here
to know more about GK Enchanted Farm's centers for sustainable development.
The Filipino Dream
So what is the Filipino dream? It is having everyone, rich and poor, to be part of the growing
economy. It is not having to leave the country to be wealthy. It is having food in your backyard. Simply put, it is this: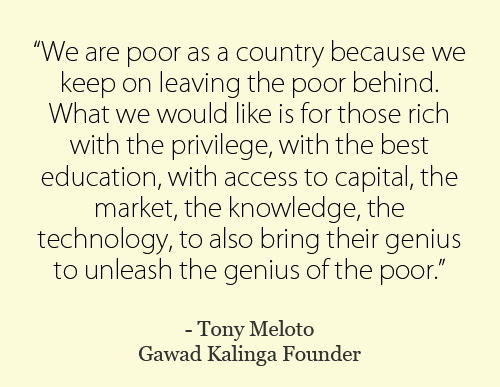 "We are poor as a country because we keep on leaving the poor behind. What we would like is for those rich with the privilege, with the best education, with access to capital, the market, the knowledge, the technology, to also bring their genius to unleash the genius of the poor."
-
Tony Meloto, Gawad Kalinga Founder
After two days of staying in GK Enchanted Farm, it is safe to say I felt hopeful on what our country can do in the next years. And I definitely want to put up my own social enterprise within the next five years. For now, I am encouraging everyone to book a weekend at this magical place.
Did I mention their food are all organic and healthy? Here's a sample of what we had during our stay.

LIKE these Facebook Pages!
* farm rates, packages and event posters grabbed from GK Enchanted Farm website and official Facebook page.
**Special thanks to Raf Dionisio for this Blogger's Weekend at GK Enchanted Farm