El Nido Escape: Shelter at Talindak Cottages
7:56 PM
Maybe Nacpan and I were not meant to be that time. They say timing is everything. I enjoy falling in love with new places but I was more eager to meet Nacpan during our visit to El Nido. The strong drops of raining falling on the metal roof that Tuesday morning meant we have to stay indoors. We packed our bags and moved from Skyline Inn, a budget room smacked right in the middle of the town, to Talindak Cottages which was homey and a good choice if we wanted to stay indoors.

It took our tricycle driver around 20 minutes to drop us at the corner leading to Talindak. There were no paved roads from the main road going to the resort. It was all muddy and some parts were even in puddles. I did not mind getting my feet wet as it was already drizzling. I was relieved as soon as I saw the native cottages facing the sea. The waves were wild and no shore was visible. The rain was crazier when we started ringing the reception bell. Our host allowed us to stay in the mini bar area as they fixed our room. We got a beachfront but there was no beach that morning. It was all rain and sea. We placed our bags in a bamboo cabinet.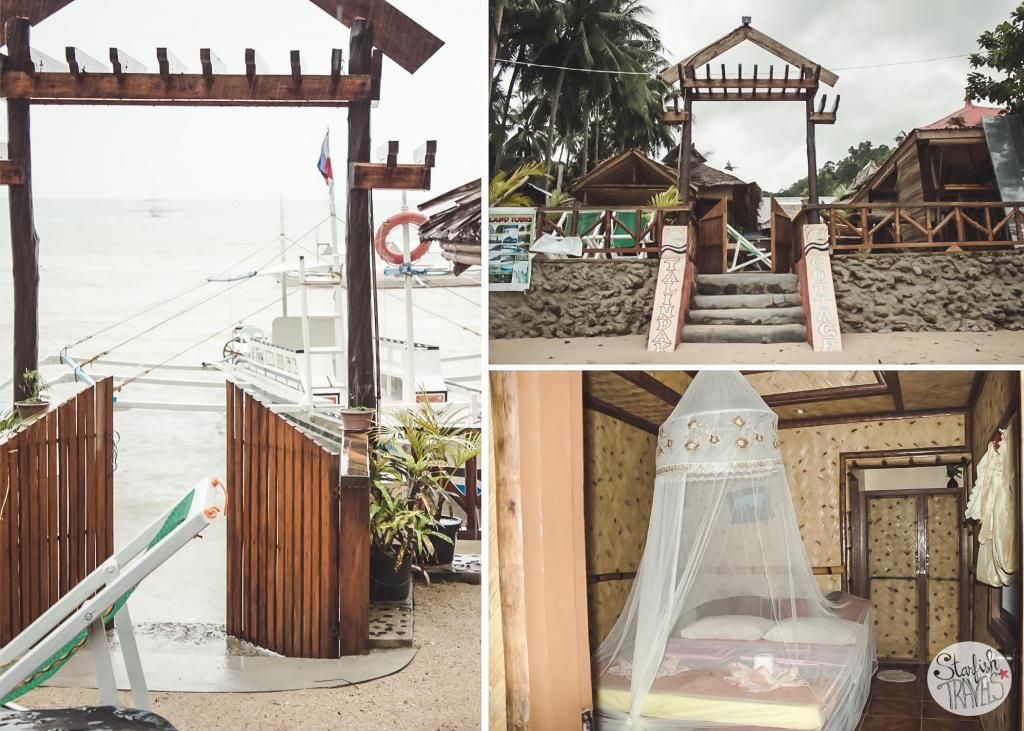 From L to R (clockwise): (1) Beachfront view from our room (2) view of the cottages from the beach
(3) our room for the night
Kuya was kind enough to give us free coffee as we settled ourselves in the cottage balcony. It is a known fact that there is no electricity in El Nido from 6am to 2pm. We were there as early as 9am so we occupied ourselves with our own choice of reading. I have always believed that rain, coffee, and books were a good combination. Apparently it is better when you are facing the sea even if the waves appear deadly.
Our companions for the rainy morning
Our beachfront cottage was so cozy. Our room was spacious and the balcony was ideal for reading, chilling and even playing cards. We were eager to try the seats nearer to the shore so when the rain stopped we immediately patted the chairs dry and continued our reading. By noon we had decided to skip the land tour to Nacpan as weather was not improving. Rain was as moody as a girl on her period. I would know. So I accepted that I was not fated to gaze at Nacpan that day but rather have the much needed slow day.
Talindak Cottages did not have any restaurant so we were pointed to the nearest place, Greenview Resort. We had two ways to get there - by the beach or by the main road. Little as I am, I still chose the beach. The waves were a bit kind. I just got my knees wet but reached the resort in one piece. We headed to their second floor where the restaurant was located. There were a few guests - two Caucasian couples and one male solo traveler working on his laptop. We chose a seat with a view then ordered bbq and chopsuey. Food is a bit on the midrange price. As if there were other choices on that rainy Tuesday.
We headed back to Talindak afterwards and the shore was beginning to show itself. Even children had gone out of their houses to play in the sea. We would later find out that the shallow shore would stretch long.

I took a nap when electricity was back and the rain started to fall again. I woke up at around four with the shore completely revealing itself and the rain stopping. J was in our balcony planning the week ahead. We took the chance to walk around the beach before the dark clouds looming would reach us.


The day ended with grilled liempo, rice, and coke consumed at our balcony. I did not see the famed El Nido sunset but it was still a beautiful day. More peaceful than other days. I guess the world needed me to slow down.
Love is unexpected. You believe you are meant for something when some other thing captures your heart. Talindak was unexpected love but it reminded me of things I needed to appreciate. I enjoyed being with my guy on a rainy day because he was my own pocket of sunshine. I fell in love with the gloomy weather. I remembered the simple joy of having a book while you watched drops of rain. The bamboo wind chimes added a rustic touch. I fell in love with the feeling of having a simple life. It was perfect timing as the next day we went back to Puerto Princesa unsure of our flight then got to fly back to Makati two hours over our expected arrival; and finally entered a room with no electricity because of Glenda.
Contact Details:
Talindak Cottages
Sitio Lugadia, Corong Corong , 5313 El Nido, Palawan
Website:
http://www.talindak.com/
Mobile: 09094925944
Email:
budz_apr16@yahoo.com
Room Rate: Php1000 for Beachfront Cottage